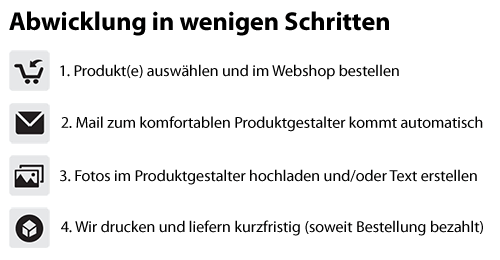 Sie können natürlich bereits vor dem Kauf den Online-Designer nutzen, um Ihre Designideen zu testen:
Are you looking for a truly high quality personalised flip case for your phone? Our direct print flip cases are offering various advantages compared to our standard flip cases and even compared to our premium line. The main enhancements are:
The main difference to both our standard and premium flip case is the applied printing method - the pictures are directly printed on the surface using a very complex UV printing process, which means that the print quality is not just very good but also long-lasting.
Our high-end cases are also the only ones to offer a silicone phone bracket, which means that your phone is well protected - our other flip cases use plastic brackets. Also, the high-end version has a rubberised surface to make it less slippery.
The inside not only offers two credit card / money slots but also a colour-accentuated inside with a high quality appeal.
Similar to our premium flip cases, the front of the cover is much more stable compared to our standard cover as the front and back parts are linked with stronger fabric.
Also similar to our premium flip cases, the back folds in the middle so you can use it as a stand for watching videos on your phone

Your picture(s) are directly printed on the surface of our high-end flip case using a very complex UV printing process, which means that the print quality is not just very good but also long-lasting.
We only print on high-quality blank cases that feature the magnet on the side (compared to most other cases that have the magnet on the front or back). That allows the cases to be not just slightly slimmer, but they are also very easy to open and close. The inside is made out of colour-accentuated fabric, featuring two slots for money or credit cards.
The bracket that holds the phone is made out of silicone rather than hard plastic, which means that it scratches less and keeps your phone better protected. The case is also slightly rubberised so it is less slippery than our other flip cases.
All our cases are specifically made for the specified phone so you can use the ports and all buttons. Please be sure to buy the case for the correct model (especially when having a phone with a year in its name as the purchase date can differ from the edition).
The flip case can be easily customised with your own photo(s) and text. We offer a web-based designer that easily allows you to upload and position all elements, so you can design your case with a few clicks. PLEASE BE AWARE that it can take up to 2 hours for the link to arrive as Amazon internally checks all orders before forwarding them to the seller, so we don't receive your order straight away but with a slight delay!